You can pre-order The Walking Dead: Here's Negan! at Amazon.
---
The Walking Dead: Here's Negan! to be collected into hardcover edition this october
Over at Image Comics, Robert Kirkman and artist Charlie Adlard of The Walking Dead fame have announced the hardcover collection release of Here's Negan! the spin-off 16 part story charting the back story of the most controversial and complex characters in The Walking Dead history. For those not familiar with the comics, Negan made a splash in the main The Walking Dead series when he was introduced as the next big bad in issue 100 and proceeded to smash the skull in of one of the books most beloved characters.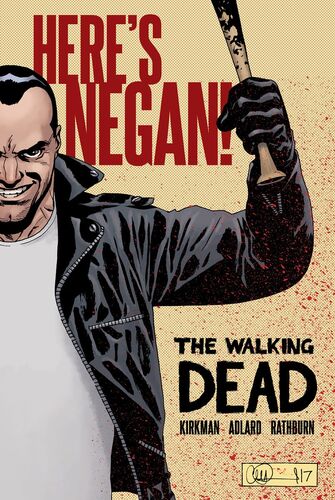 The press release adds the following synopsis:
Who is Negan? Since his début in THE WALKING DEAD #100, the charismatic psychopath has antagonized Rick Grimes, murdered his friend with a baseball bat wrapped in barbed wire (which he calls "Lucille"), and led the Saviors into war against Alexandria and the neighboring communities.
The Walking Dead: Here's Negan! hardcover will be available for $19.99 in comic book retailers in the US on Wednesday, October 4th and in bookstores on Tuesday, October 10th.